Legislation would reverse Trump Admin's baffling and harmful elimination of women's reproductive rights from annual human rights report
MARCH 7, 2019- Washington, D.C.- Today, ahead of International Women's Day, Representative Katherine Clark (MA-5), Vice Chair of the House Democratic Caucus, Senator Bob Menendez (D-N.J.), Ranking Member of the Senate Foreign Relations Committee, Representative Barbara Lee (CA-13), Senator Richard Blumenthal (D-Conn.) and leading reproductive health and human rights organizations and activists announced bicameral introduction of the Reproductive Rights are Human Rights Act.
The legislation would require the U.S. State Department to include reproductive rights in its annual Country Reports on Human Rights Practices, expected to be released soon. The Department eliminated this critical component of its report without warning or justification in 2017.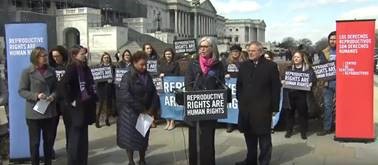 CLICK HERE TO WATCH NEWS CONFERENCE
"The White House is attacking women by erasing them," said Vice Chair Clark. "Today, we are taking action. Regardless of who sits in the Oval Office, the U.S. government must serve as a watchdog and advocate for women's fundamental reproductive rights."
"We are introducing this legislation because it is not up to the Trump Administration to pick and choose which rights matter to the health and well-being of billions of women worldwide," said Sen. Menendez. "We must be unequivocal: Women's rights are human rights – and human rights include reproductive rights. As we await this year's annual Country Reports on Human Rights Practices, our bill requires the State Department to include all of the facts. Not a politically-motivated selection of the facts. Congress needs to be able to rely on the integrity of this report so we can understand the full human rights record of nations when setting our nation's foreign policy."
As required by the Foreign Assistance Act of 1961 and the Trade Act of 1974, the Secretary of State reports annually to Congress on the status of human rights in each country receiving U.S. foreign aid, as well as in each United Nations member state. Since 2011, these reports have included detailed information on deprivation of women's access to reproductive rights. Congress and the private sector rely upon them when considering appropriations requests and making advocacy, planning, and policy decisions.
Removing women's right from the annual report in 2017 was a dramatic and dangerous shift in U.S. efforts to protect the international rights of women and sent a message to abusive governments that the U.S. would no longer hold them account for violations.
"Women around the world lack access to proper medical care and face gender inequality, regulatory restrictions, and cultural taboos that put them at risk of unintended pregnancies, unsafe abortions, and sexually transmitted diseases", said Chairwoman Nita Lowey. "I'm proud to support legislation that would restore reproductive rights to the State Department's annual human rights report, maintaining U.S. leadership on behalf of the world's women across administrations."
Additionally, the report is used by immigration judges and asylum officers to determine asylum status for women declaring human rights abuses at the U.S. border. By eliminating the reproductive health and rights from the report, women are left without this foundational evidence to support their asylum claim.
"We need to hold the Trump Administration accountable for its censorship of key elements of the State Department's annual human rights report," said House Foreign Affairs Chairman Eliot L. Engel. "The deletion of reproductive rights from the report was an outrageous move that represented a clear step back from the United States' obligation to address human rights violations around the world. This bill will ensure Congress has a clear and complete picture of the challenges women and girls face, which will empower us to address them effectively."
"There is no greater right for women than to be in charge of their own bodies," said Rep. Frankel. "By omitting reproductive rights from the State Department's annual human rights report, we turn a blind eye to the needs of women and girls everywhere."
"I applaud Representatives Katherine Clark, Eliot Engel, Nita Lowey, Barbara Lee, Lois Frankel and Senators Robert Menendez, Jeanne Shaheen, and Richard Blumenthal for introducing the Reproductive Rights Are Human Rights Act of 2019 today. This bill will ensure that the U.S. State Department includes comprehensive reporting on reproductive rights in its annual Country Reports on Human Rights Practices. Access to reproductive healthcare has been recognized as a protected human right impacting women's right to life, health, equality, non-discrimination and freedom from cruel, inhumane and degrading treatment and governments do not get to pick and choose whose rights will be respected," said Nancy Northup, President and CEO of the Center for Reproductive Rights. "When women's rights are limited and they are unable to access basic health care like contraception, safe abortion, and maternal health care, their ability to achieve economic, social, and political empowerment is fundamentally hindered. By requiring annual reporting on these critical issues, Congress is ensuring that the rights of women and girls will no longer be political spoils that can be erased from global discourse."
"The Reproductive Rights Are Human Rights Act affirms that every person has the right to decide if and when to start a family and to make decisions about their body. By removing reproductive rights from their human rights reports, the Trump-Pence administration has signaled to the world that these rights don't matter. This is unacceptable, and part of a broader ideological agenda to take away reproductive rights and health at home and abroad," said Dana Singiser, Senior Vice President of Policy, Campaigns and Advocacy at Planned Parenthood Federation for America. "We look forward to working with champions in Congress to reaffirm that reproductive health care is health care and health care is a human right."
"I can't think of a better way to honor International Women's Day than to affirm the fundamental truth that women's reproductive rights are human rights," said Ilyse Hogue, President of NARAL Pro-Choice America. "The Trump administration has made it crystal clear that they will stop at nothing to turn back the clock on women everywhere, including by erasing all mentions of reproductive rights—from abortion access to contraception to maternal mortality—from a vital State Department human rights report. We are grateful for the leadership of Rep. Katherine Clark (D-MA) and Senator Bob Menendez (D-NJ) in standing up to this Administration's all out assault on our rights and freedoms."
"We all have universal human rights, which include deciding when to become parents, how many children to have and surviving childbirth. When governments limit women's reproductive rights they also restrict their economic, social and political rights," said Amanda Klasing, Co-Director (Acting), Women's Rights Division, Human Rights Watch. "We welcome Congress stepping in to ensure that the State Department does not erase or turn a blind eye to some of the greatest threats to women's fundamental human rights."
"The removal of reproductive rights from the US State Department Human Rights Reports is an egregious display of the administration's contempt for women," said Françoise Girard, President of the International Women's Health Coalition. "By passing the Reproductive Rights Are Human Rights Act, Congress would signal to the world that the US commitment to human rights transcends politics and the regressive, sexist policies of the Trump administration."
"Human rights are taking a beating under the Trump Administration as the US has gone from being a champion of human rights around the world to now neglecting the rights of already marginalized groups", said Abby Maxman, CEO of Oxfam America. "Removing the reproductive rights section from the State Department analysis devalues women's lives and their fundamental rights to health, safety, wellbeing and autonomy. Sexual and reproductive rights are human rights. This removal means that the US offers only a partial and eroding picture of fundamental human rights."
"By completely erasing reproductive rights from the State Department's human rights report, this administration is effectively allowing the United States to fall further behind the rest of the world in efforts to protect human rights and promote peace for all. Women around the world are subjected to gender-based violence as a tool of war, criminalized for seeking access to abortions, and coerced into pregnancy by draconian laws that violate the autonomy all human beings deserve to have over their bodies. When we erase this critical data from the official record at the State Department, we send women worldwide back into the shadows", said Randi Weingarten, President of the American Federation of Teachers. "This administration has set a dangerous precedent and deserves to be checked. As we head into International Women's Day, the AFT recommits to always being on the side of human rights for all—not just some—and fully supports the Reproductive Rights Are Human Rights Act."
Upon introduction, the bill has support from 127 House co-sponsors, 31 Senate co-sponsors and 93 outside organizations including:
Center for Reproductive Rights
Advocates for Youth
American Civil Liberties Union
American College of Obstetricians and Gynecologists
American Federation of Teachers (AFT)
American Jewish World Service
Amnesty International USA
Asian Services In Action, Inc. (ASIA, Inc.)
Athlete Ally
Bangladesh Model Youth Parliament
CARE USA
Catholics for Choice
Cedar River Clinics
Center for Biological Diversity
Center for Health and Gender Equity (CHANGE)
Clearinghouse on Women's Issues
Colorado Organization for Latinan Opportunity and Reproductive Rights (COLOR)
Council for Global Equality
Equality California
Equality Now
Equity Forward
EverThrive Illinois
Feminist Women's Health Center
Gender Justice League
Global Justice Center
Global Justice Institute, Metropolitan Community Churches
Global Woman P.E.A.C.E. Foundation
Global Women's Institute
Guttmacher Institute
Heartland Alliance International
Hispanic Federation
Human Rights and Gender Justice Clinic, CUNY Law School
Human Rights Campaign
Human Rights Watch
Ibis Reproductive Health
If/When/How: Lawyering for Reproductive Justice
International Action Network for Gender Equity & Law (IANGEL)
International Center for Research on Women (ICRW)
International Federation of Business and Professional Women
International Human Rights Law and Practice Clinic, Northwestern Pritzker School of Law
International Institute on Race, Equality and Human Rights
International Service for Human Rights (ISHR)
International Women's Health Coalition
Ipas
Jewish World Watch
John Snow, Inc. (JSI)
Legal Voice
MADRE
Massachusetts Immigrant and Refugee Advocacy Coalition (MIRA)
Milaan Foundation
NARAL Pro-Choice America
NARAL Pro-Choice Washington
National Abortion Federation
National Advocates for Pregnant Women
National Asian Pacific American Women's Forum (NAPAWF)
National Birth Equity Collaborative
National Center for Lesbian Rights
National Council of Jewish Women
National Immigration Law Center
National Institute for Reproductive Health (NIRH)
National Organization for Women
National Organization for Women, Washington State Chapter
National Women's Health Network
North American MenEngage Network
Northwest Abortion Access Fund
Northwest Health Law Advocates (NoHLA)
Oxfam America
PAI
People For the American Way
Planned Parenthood Federation of America
Population Connection Action Fund
Population Institute
Positive Women's Network-USA
Raiz of Planned Parenthood of Greater Washington and North Idaho
Robert F. Kennedy Human Rights
Santa Clara Law School - International Human Rights Clinic
Save the Planet
Sexuality Information and Education Council of the United States (SIECUS)
SIA Legal Team
SisterSong: National Women of Color Reproductive Justice Collective
Sunlight Foundation
Surge Reproductive Justice
Synergía - Initiatives for Human Rights
The Center for Sexual Pleasure and Health
The Womxn Project
U.S. National Committee for UN Women
UN Association of the United States of America (UNA-USA)
Urgent Action Fund for Women's Human Rights
US HUMAN RIGHTS NETWORK
Women for Afghan Women
Women Graduates-USA
Women's Refugee Commission
Woodhull Freedom Foundation