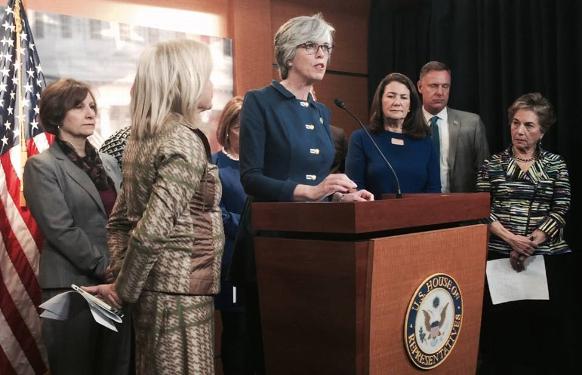 Clark to Bring Project Citizenship Director as Guest to Trump Address
Washington, D.C. – Congresswoman Katherine Clark announced that her guest to the President's upcoming address to Congress will be Project Citizenship Executive Director Veronica Serrato. Serrato is the founding executive director of New England's largest citizenship provider that is working to increase the naturalization rates for legal permanent residents. She is the proud daughter of naturalized citizens who emigrated to the United States from Mexico.
"I want Trump to know that he's not just addressing Congress; he's addressing families at home who are hurt by his divisive policies," said Clark. "Veronica's leadership has been critically needed as Trump's dangerous, anti-immigrant promises are pushing families, including victims of abuse and other crimes, deeper into the shadows. Her life's work exemplifies our proud history and the generous nature of those who call the Commonwealth home."

Prior to joining Project Citizenship, Serrato was the Senior Staff Attorney at the Volunteers Lawyers Project and was responsible for training and mentoring pro bono attorneys in civil litigation, family law, and guardianship law, from 2005 to 2014. She also served for over 5 years at the Wilmer Hale Legal Services Center of Harvard Law School as a Specialist Consultant on domestic violence cases. She also handled domestic violence issues at the Casa Myrna Vazquez and served as the Assistant District Attorney for the Middlesex and Framingham Districts.
As a Mexican-American, Serrato believes that her "story is representative of the hope and promise of the United States." In one generation, her Mexican parents came to the United States, raised 5 children who all attended private colleges and are now all professionals.
"Project Citizenship has received an unprecedented number of calls from immigrants seeking citizenship since the inauguration and again, after the travel ban," said Serrato. "Citizenship is the only security and protection from deportation or exclusion. We are unapologetically pro-immigrant because we recognize the value and diversity immigrants add to this nation, a nation that was built by immigrants. Many of our clients are frightened and anxious about the plans of the new administration."
###