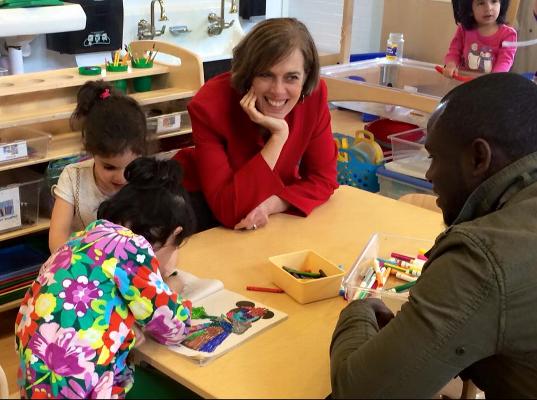 Clark unveils early education bill combating trauma in young children
Medford, MA -- Today, at a statewide summit of early education providers, Congresswoman Katherine Clark unveiled the Caring Start Act of 2015. Clark's bill is aimed at helping children from birth to age 5 who experience higher barriers to learning due to chronic stress or trauma outside of school. Leading child care advocates assert that neglect, hunger, abuse, and other forms of trauma present significant challenges to learning and social-emotional development. Skills developed at this stage are foundational to language and reading - the key indicators for academic and economic success later in life. The Caring Start Act helps children who have experienced trauma achieve their potential by providing teachers with training and technical assistance on latest available trauma-informed care approaches.
"Kids are born ready to learn, and it's up to us to make sure all children can meet their full potential," said Clark. "When kids are hungry, neglected, or suffer abuse, it can be difficult for them to learn. The Caring Start Act modernizes early learning techniques by giving teachers the tools and assistance they need to address trauma. It ensures that every child, regardless of their circumstance, will have a caring and supportive early education environment."
Over the past decade, new evidence-based approaches and models, as well as an increased focus on trauma and toxic stress, have produced positive results for children in 26 states and territories including Massachusetts. The Caring Start Act builds upon this success, by updating the Head Start Act to promote emphasis on early intervention and compassionate care over exclusionary discipline.
###