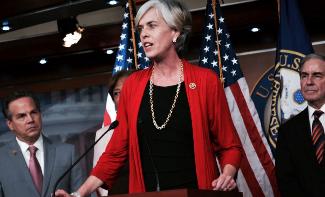 Clark passes opioid crisis bills with unanimous support of House
UPDATE: Following the passage of 2 of Clark's bills on May 11, the U.S. House unanimously passed a 3rd bill, Lali's Law, a bipartisan bill Clark introduced with Rep. Bob Dold. Lali's Law increases access to the life-saving overdose antidote Narcan. [May 12, 2016]
Washington, D.C. – Today, Congresswoman Katherine Clark passed 2 of her bills to address the nation's opioid crisis. The Reducing Unused Medications Act and Infant Plan of Safe Care Improvement Act passed with unanimous support of the U.S. House. Clark's bills are aimed at reducing the amount of unused and unwanted pain medications fueling the opioid epidemic and ensuring safe care plans for families with infants suffering from opioid exposure.
"I'm proud to see the House put their differences aside to do the right thing," said Clark. "But at the center of these victories are the families from home who bravely shared their stories of loss with us so that no other parent would have to lose a child to opioid abuse. Their tenacity, combined with the advocacy of doctors, researchers, and first reponders are saving lives, and we owe them a debt of gratitude."
Clark also successfully advocated for several amendments to the House's proposal to coordinate best practices for pain management. Clark's amendments include requiring studies in how pain management affects adolescents and young adults, and research on the role electronic prescriptions can play in responsible pain management and ending the opioid crisis.
Another one of Clark's bills, Lali's Law, will be considered by the House this week. Lali's Law aims to increase the availability of the overdose antidote Narcan through state grants

Summaries of Clark's bills passed by the House today:
The Reducing Unused Medications Act: allows prescriptions for opioid medications to be partially filled by pharmacists at the request of patients or doctors, reducing the number of unused painkillers. More than 70 percent of adults who misuse prescription opioids get them from friends or relatives, according to the National Institute on Drug Abuse.
Infant Plan of Safe Care Improvement Act: provides safe care plans for infants and mothers affected by substance use disorders and helps ensure they get the help they need.
###