January 14 2020, Washington, D.C.- Today, Vice Chair of the Democratic Caucus Congresswoman Katherine Clark (MA-5) was thrilled to announce two new additions to her Washington, D.C. office: Casey Davison, who joined the team as the Congresswoman's Legislative Aide and Press Assistant, and Cierra Smith, who will serve as her Digital Press Assistant. Both staffers will be supporting the Congresswoman's communications objectives as well as her constituent outreach program.
"I'm incredibly proud to welcome the newest members of Team Clark who will help expand our outreach to Massachusetts families and the entire Democratic Caucus," said Vice Chair Clark. "House Democrats are making a real difference for the American people by raising wages, protecting the right to vote, tackling gun violence, combating climate change, and holding this president accountable. This team will help elevate that work and ensure that District 5 residents are getting the information and resources that they deserve."
Casey Davison most recently served as the Legislative Correspondent for Congresswoman Zoe Lofgren (CA-19). Prior to his service as a Congressional staffer, he worked on multiple electoral campaigns, including the successful elections of Congressman Jimmy Gomez (CA-34) and California State Assemblymember Wendy Carrillo.
Although Davison hails from Los Angeles, his family's immigrant experience began in Congresswoman Clark's district when his great grandparents moved to Watertown, Massachusetts from Armenia in the early 20th century. Davison graduated with First Class Honors from the University of Warwick in Coventry, England. He currently serves as the Membership and Outreach Chair for the Congressional Armenian Staff Association, an organization aimed at recruiting and facilitating the professional development of Armenian American staff members in Congress.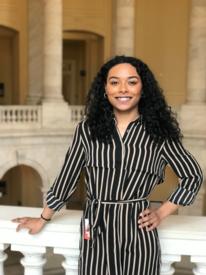 Cierra Smith joins the Clark team from the House Democratic Caucus where she previously worked as a Digital Fellow. Cierra has previously worked as a producer for CNN, NowThis News, and as a digital manager on behalf of international correspondent Michelle Caruso-Cabrera. Originally from New York, Cierra graduated from the S.I. Newhouse School of Public Communications at Syracuse University with a Bachelor's Degree in Broadcast and Digital Journalism in 2017. She is a member of the Congressional Black Association, a staff association dedicated to empowering Black Staffers on Capitol Hill.
###