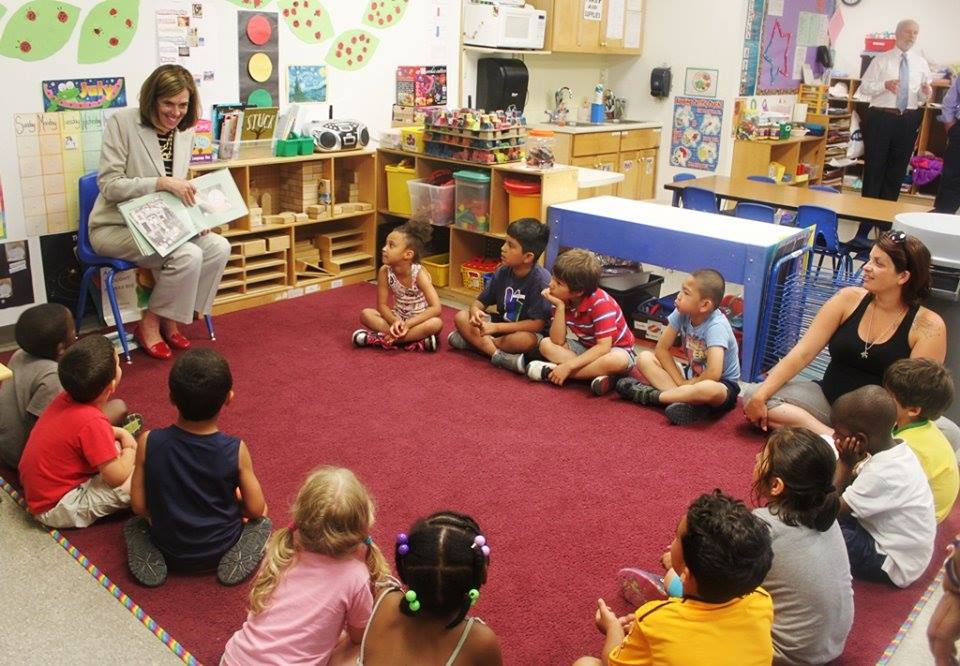 Clark joins Murphy, Booker, Davis, Scott to introduce bicameral bill establishing positive school climates

Congresswoman Katherine Clark partnered with Democratic House and Senate members to promote supportive behavioral interventions over harsh school policies
Washington, D.C. – Today, Congresswoman Katherine Clark (D-Mass) joined Senator Chris Murphy (D-Conn.), Senator Cory Booker (D-N.J.), Congressman Danny Davis (D-Ill.), and Congressman Bobby Scott (D-VA) in introducing the Supportive School Climate Act of 2015, legislation that promotes positive and trauma informed learning environments while reducing suspensions, expulsions, and other overly harsh school disciplinary actions to improve youth outcomes. The bill would give every student – especially those who face abuse, neglect, or other forms of trauma – ample opportunity to form positive and trusting relationships with adults in a school environment that is supportive of their complex needs, and would encourage the use of evidence-based strategies that promote positive behavior.

"Severe school policies often cut off our most vulnerable students' path to success," said Clark. "The Supportive School Climate Act proactively invests in behavioral health resources for students and teachers, forms local community partnerships, develops trauma informed supports, and gives vulnerable students the resources they need to graduate and pursue college or work."
"The facts show that when we force students out of school, we're not only sending them back to an environment far less conducive to learning, but are setting them up for failure in the long run," said Murphy. "The system needs to change. Instead of using ineffective and unnecessarily harsh methods to change a child's behavior, we should be developing support services for schools and educators to help our youth achieve better outcomes. The Supportive School Climate Act will give our schools the resources they need to ensure that positive school climate measures are seen as a critical part of school policy – rather than just an afterthought – and will get these kids back in the classroom and on the road to success."
"We must provide pathways for our youth to succeed and do everything possible to break the cycle of discipline and disenfranchisement," said Booker. "This bill represents a step forward in the effort to dismantle the school-to-prison pipeline and it is vital that we empower schools to promote polices that are fair and compassionate. The future of our country rests on our capacity to believe in the potential and promise of all of our young people."
Davis said, "The school-to-prison pipeline is a profound, pernicious problem in our country that undermines educational opportunities for certain students. The Supportive School Climate Act helps schools adopt evidenced-based disciplinary systems shown to improve school climate, academic performance, and attendance as well as reduce discipline referrals, suspensions, and expulsions. These programs promote positive learning environments so that teachers can teach and students can learn."
"The Supportive School Climate Act will provide much needed investments in proven practices to reduce school discipline rates across the country," said Scott. "Data shows that positive school climates and behavioral interventions can make the difference necessary in the lives of students at risk of dropping out and becoming involved in the juvenile justice system. Passage of this bill will ensure that we are keeping our students engaged in school and on track to college and the workforce."
Too often, students are suspended, expelled, and arrested for minor offenses that in the past may have simply led to a visit to the principal's office. These zero-tolerance policies have disproportionately targeted poor and minority students, particularly those with a history of abuse and neglect, or students with disabilities, and have been proven to further stigmatize children, enlarge achievement gaps, and increase rates of school drop-outs and recidivism.
The Supportive School Climate Act would allow states to use federal education funds for positive behavioral interventions and support, as long as interested states also work to address the following:
Ensure that school discipline policies align with civil rights laws and are applied equally to all students;
Provide technical assistance to state and local education professionals, including training on trauma-informed approaches;
Coordinate efforts with local education agencies, maximize reintegration of students involved with the criminal and juvenile justice systems;
Strengthen current law that governs coordination between school systems and correctional facilities, ensuring that once kids are incarcerated, they have a meaningful opportunity to turn their lives around when released;
Establish systems for sustained family and community engagement; and,
Provide transparent reporting on aggregated and disaggregated data of incidences of suspensions, expulsions, disciplinary transfers and referrals, seclusion, restraint, and school based arrests at the state and local level.
The following organizations support the Supportive School Climate Act of 2015: The Center for Civil Rights Remedies at UCLA's Civil Rights Project, the NAACP Legal Defense Fund, Dignity in Schools Campaign, the National School Climate Center, the National Association of School Psychologists, Futures Without Violence, the National Center for Special Education in Charter Schools, the Council of Parent Attorneys and Advocates, the National Center for Learning Disabilities, First Focus, Public Advocacy for Kids, Opportunity Action, and the Alliance for Excellence in Education.
###