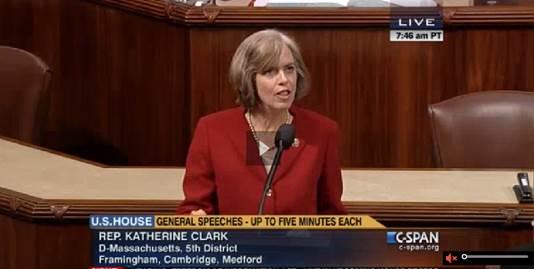 Clark bill enforces laws banning online violence against women [VIDEO]
Washington, D.C. – Today, Congresswoman Katherine Clark introduced the Prioritizing Online Threats Enforcement Act, legislation that compels the Department of Justice (DOJ) to enforce laws prohibiting online violence against women and to ensure protections for victims of severe online threats. Recently, at Clark's urging, the U.S. House instructed the DOJ to intensify investigation and prosecution of these crimes. The Prioritizing Online Threat Enforcement Act gives the Department of Justice and the FBI resources and a mandate to investigate and enforce the existing federal laws regarding threats.
"It is not ok to say this is just an internet problem," said Clark. "It is not ok to say to women that this is just the way things are, and it's not ok to tell women to change their behavior, withhold their opinions or stay off the internet altogether just to avoid severe threats. When we don't take these cases seriously, we send the clear message that when women express on opinion online, they are asking for it. That is why I am calling on the Department of Justice to enforce laws that are already on the books, and increase the priority of investigations and prosecutions." [Video of remarks here]
Following meetings with targets of online threats earlier this year, Clark petitioned the House to make enforcement of laws prohibiting such threats a greater priority for the Department of Justice. Although laws against violent online threats already exist, enforcement is drastically lagging. Of the estimated 2.5 million cases of cyberstalking that occurred in the U.S. between 2010 and 2013, federal prosecutors pursued only 10 cases. Citron, D. (2014). Hate crimes in cyberspace (p. 132)

According to a recent study by the Pew Research Center, 73 percent of adult internet users have witnessed online harassment, and 25 percent have seen someone threatened with physical violence. Another study by the University of Maryland reports that women receive sexually explicit or threatening messages 27 times more often than men.
Full text of the Prioritizing Online Threats Enforcement Act can be found here.
###