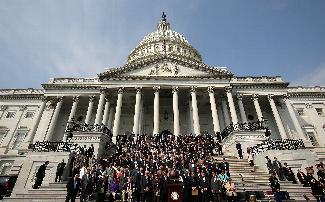 Clark Statement on House Omnibus Spending Bill
Washington, D.C. – Congresswoman Katherine Clark released the following statement regarding the spending bill that passed in the U.S. House:
"This spending bill is a glaring example of the disconnect between priorities in Washington and the needs of families at home.
"The needs of our families didn't make the cut, yet we are offering Wall Street and the ultra-wealthy another sweetheart deal. This bill fails to restore critical funding to education programs, transportation, and NIH research that was slashed under sequestration. Instead, it allows our hard-earned tax dollars to be the backstop for the risky Wall Street gambling that crippled our economy and cost millions of jobs. It also rewards the wealthiest Americans with exclusive political influence. This is a bad deal for families, our economy, and our future.
"One year ago tomorrow I was sworn in as a Member of Congress, and I told my colleagues that families in our district want to know that the issues they talk about around their kitchen tables are the issues we will talk about in Congress. Most of all, they want to know that because they work hard and play by the rules, they can have a fair shot. I continue to urge my colleagues to stop governing by crisis, stop the cynical posturing, and let's get to work to create an economy that works for everyone."
###