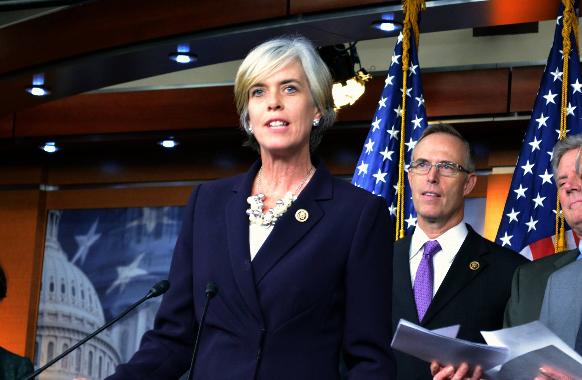 Clark, DeLauro Introduce Bill to Protect Tipped Workers
WASHINGTON, DC — Katherine Clark (MA-05) and Congresswomen Rosa DeLauro (CT-03) today introduced the Tip Income Protection (TIP) Act, legislation to protect tipped workers from having their tips taken by their employers. In a House Appropriations Committee hearing yesterday, Clark and DeLauro pressed Department of Labor (DOL) Secretary Alexander Acosta on the recent DOL proposal allowing restaurants and other employers to keep workers' tips. Under this change, employers would be permitted to pocket gratuities earned by workers provided that workers are paid the federal minimum wage. Women, in particular, would be hurt by the proposed rule because they represent more than two-thirds of tipped workers in the United States according to the National Women's Law Center.
Clark pressed Acosta to clarify the administration's stance on employers taking tips, to which Acosta conceded he would support a law banning employers from taking their workers' tips.
"Every day, workers depend on their hard earned tips to feed their families and get through school, and the least this administration can do is offer assurance that their bosses won't steal from them," said Clark. "We should hold Secretary Acosta to his word and expect this administration to work with Republicans and Democrats to pass the TIP Act."
"Tipped workers—not their bosses—are entitled to their hard-earned dollars," said DeLauro. "The biggest economic challenge of our time is that too many people are working in jobs that do not pay them enough to live on. Given that reality, it boggles my mind that the Trump administration would allow employers to pocket minimum wage workers' money, yet the recent DOL proposal would create that exact loophole. That is why we must pass the TIP Act as soon as possible. I am glad to have the bipartisan support of Labor Secretary Acosta and Chairman Tom Cole, and I look forward to this bill's swift passage to protect tipped workers' wages."
"Tips should belong to the workers who earned them. Period," said Christine Owens, Executive Director at the National Employment Law Project. "The National Employment Law Project fully supports this legislation and commends Reps. DeLauro and Clark for introducing it. We look forward to bi-partisan support on this issue."
"We urge Congress to pass this important legislation," said Celine McNicholas, Labor Counsel at the Economic Policy Institute. "The Department of Labor has proposed a rule that would abolish the current regulation that prohibits employers from taking workers' tips. We estimate that if DOL finalizes its proposal, workers will lose $5.8 billion in tips every year as tips are shifted from workers to employers, and of the $5.8 billion, nearly 80 percent—$4.6 billion—would be taken from women who are working in tipped jobs."
###