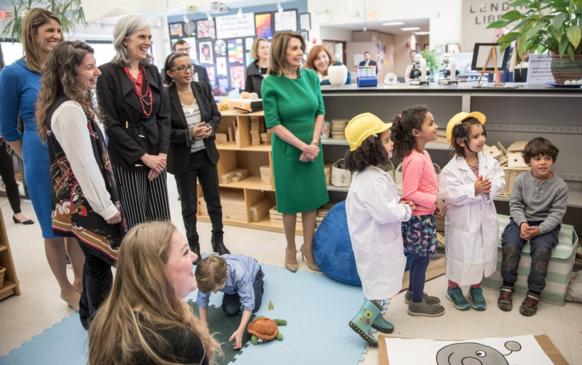 WASHINGTON, D.C.- Today, Vice Chair of the Democratic Caucus Congresswoman Katherine Clark (D-MA), Congresswoman Kim Schrier (D-WA), and Congressman Don Young (R-AK) introduced the Child Care Access Means Parents In School Reauthorization (CCAMPIS) Act, a bill that would provide $200 million annually in grant funding to support child care for student parents on college campuses.
"We know that the high cost of child care restricts parents from pursuing an education or a new career," said Congresswoman Katherine Clark. "This legislation will give our student parents a fair shot at success and our children the foundational education that is vital to their future learning."
"Many students attending college today are working parents – both young and more senior. Too often these students are not able to finish their degree because of reasons unrelated to school, such as excessive child care costs. I know that in Washington State, child care costs are more expensive than a public, four-year degree. This bill will help student parents stay in school and finish their degree by ensuring there is quality, affordable child care on or near campus," said Congresswoman Kim Schrier, M.D.
"Pursuing higher education is one of the most important options for improving one's life circumstances," said Congressman Don Young. "Higher education is the pathway for many parents hoping to better their lives, learn a new trade, or simply increase their take-home pay. Unfortunately, a lack of affordable childcare has cut short too many dreams of earning a college degree. I am proud to support Congresswoman Clark's legislation to increase access to on-campus childcare. Supporting Alaska's parents by expanding access to high quality childcare is not only the right thing to do, our state's workforce depends on it."
Affordable, reliable child care is a crucial support for the nation's 4.8 million student parents. While the population of student parents has increased by 50% over the last decade, access to child care on campuses has declined. For community colleges, access to on-campus child care dropped from 53 percent in 2003 to 42 percent in 2017. At four-year institutions, access declined from 54 to 48 percent over the same time.
The high cost of child care is an additional barrier for student parents, especially low-income families. Right now, the cost of child care exceeds the national average fees and tuition for a 4-year public university. As a result, student parents have significantly higher debt than their peers and further, are often unable to complete their education.
Improving access to high quality, dependable and affordable child care is one of the most effective ways colleges and universities can support low-income student parents. The Child Care Access Means Parents in Schools (CCAMPIS) Reauthorization Act will:
Reauthorize the CCAMPIS grant program, and increase funding to $200 million annually through 2025;
Allows grant applicants to create annual performance metrics that are ambitious without being overly-burdensome;
Offers the opportunity for a bonus payment or continuation of grant funding to eligible institutions;
Requires the Department of Education to provide an annual report to Congress summarizing the impact of the CCAMPIS program.
Congresswoman Clark is introducing this legislation just a week after holding a community forum in Massachusetts with Speaker Pelosi on the challenges facing families, businesses and educators when it comes to accessing child care. The 116th Congress celebrates a historic number of women legislators who are putting a new focus on issues that impact working families, women and children.
###