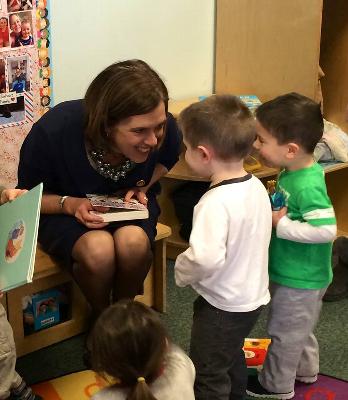 Clark bill ensures affordable child care through tax credits
Washington, D.C. – Today, Congresswoman Katherine Clark (D-MA) introduced the 21st Century Child Care Investment Act, proposed legislation to ensure all families have the ability to access affordable high quality child care. The Department of Health and Human Services defines affordable child care as costing no greater than 10 percent of a family's income. However, reports indicate that two-parent families with two children can expect to spend a quarter or more of their incomes on child care, making child care unaffordable for millions of low income families. The 21st Century Child Care Investment Act helps families access high quality child care through monthly tax credit programs.
"For millions of parents, unaffordable childcare makes going back to school or work nearly impossible." said Clark. "Affordable, high quality child care is essential for working families and for building a strong foundation for children. The 21st Century Child Care Investment Act ensures that a path to success is possible for all families."
According to the Center for American Progress, the the 21st Century Child Care Investment Act's tax credits can enable new dynamic opportunities to help families afford high quality child care.
"Nearly two-thirds of children have both parents in the workforce, but affordable, quality child care remains a luxury—far out of reach—for many working families. While child care is an economic necessity, costs for care can exceed $10,000 annually, squeezing the family pocketbook," said Carmel Martin, executive vice president for policy at the Center for American Progress. "Rep. Katherine Clark's bill to institute a high-quality child care tax credit recognizes access to child care as one of the most important economic issues facing families today."
Experts agree high quality child care can be life changing. Children in high quality programs enjoy developmental benefits that last well into adolescence. An analysis of dozens of studies suggests children in high quality care programs can gain a significant boost in language, literacy, and math skills. An NIH report found that teenagers who received high quality care as children outperformed their counterparts in academic and cognitive measures. High quality child care is essential to the development of millions of American children.
Under the program, a refundable tax credit would be paid monthly directly to providers, to help families who struggle to meet their bills every month. The credit would be available to families up to 400 percent of the poverty line. This credit could be worth as much as $14,000 a year annually. The proposed program also helps providers by allowing a five year transition into high quality standards, ensuring that they have adequate time to meet the new standards. Included under this program are considerations for standards of high quality care, including strong child care worker salaries.
The 21st Century Child Care Investment Act has received the support of the Center for American Progress, Service Employees International Union, and Child Care Aware.
Full text of the 21st Century Child Care Investment Act can be found here.
###