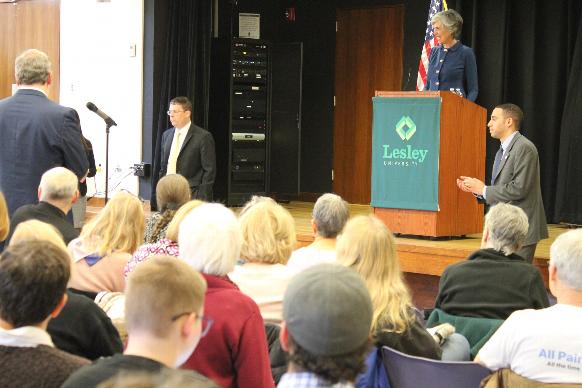 Clark forum partners with local families in push for solutions to the opioid crisis
Belmont, MA – Congresswoman Katherine Clark is partnering with health care experts and local families to push for federal resources to address the Commonwealth's opioid epidemic. Clark is inviting her constituents to a series of forums on the impact of the opioid epidemic. Local families are encouraged to share personal experiences to inform Clark's legislative efforts. The first forum will be in Belmont on April 11 and will include representatives from McLean Hospital, the Addiction Policy Forum, and Harvard Medical School.
Clark traces the success of her bipartisan opioid bills to meetings with families and treatment facilities in her district. Clark drew upon the expertise of researchers and care providers from Tufts Medical Center, Boston Children's Hospital, Ostiguy Recovery High School, and others to draft and pass bills to help infants born dependent on opioids, reduce the amount of unused pain medications fueling the opioid epidemic, ensure safe care plans for families with newborns suffering from opioid exposure, and increase access to the lifesaving overdose antidote Narcan.

"I've met too many parents who fear that this will be the day they lose their child to opioids, and I want Congress to hear from them," said Clark. "Policies that save people's lives always begin with brave families who tell their stories to policymakers. Our forums help us better understand the opioid epidemic's effects on our families and communities, and how we can help address them on the federal level."
According to the Centers for Disease Control, 91 Americans die every day from an opioid overdose. In Massachusetts, nearly 2000 died from opioid overdoses in 2016.
###