The all-Democratic congressional delegation has joined in unison to call for President Donald Trump's removal from office after the Republican leader egged on supporters to storm the Capitol Building on Wednesday.
Now, some members are also turning their scrutiny toward the police force that was unable to stop the mob attack, which led to looting of congressional offices and the deaths of four people.
In a letter to House leaders Thursday night, Rep. Ayanna Pressley called for a congressional investigation into how rioters "were able to so easily breach the Capitol building in broad daylight and in clear view of the United States Capitol Police," along with videos posted on social media showing officers "removing barriers from the Capitol grounds, taking selfies and even politely escorting terrorists out of buildings."
...Her comments echoed a tweet Wednesday by Rep. Katherine Clark, the assistant House speaker and fellow Massachusetts Democrat, who questioned why violent Trump supporters were simply "allowed to leave," after tear gas was used on entirely peaceful racial justice protesters near the White House last summer.
"The difference is skin color," Clark wrote.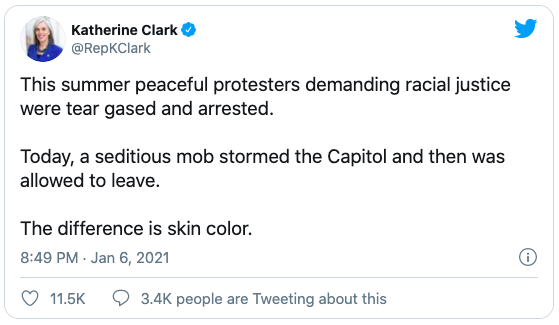 ----------
Original story here.