The House is barreling toward the impeachment of President Donald Trump for fomenting violent riots at the U.S. Capitol this week, as Speaker Nancy Pelosi works to restrain the president in his final, chaotic days in office.
Pelosi has yet to make a final decision on how precisely Democrats will proceed, including whether to pursue a constitutional process that could remove Trump without impeachment. In a statement Friday evening, Pelosi again pressured Trump to resign his office but said Democrats would "preserve every option" if he did not.
"I have instructed the Rules Committee to be prepared to move forward with Congressman Jamie Raskin's 25th Amendment legislation and a motion for impeachment," Pelosi said.
Top Democrats say privately there is broad consensus for impeachment next week in a caucus that remains deeply shaken, and House Democrats plan to introduce a formal resolution during Monday's pro forma session, though President-elect Joe Biden is less than enthusiastic about that specific option. Pelosi herself made clear, even as some colleagues resisted, that the House must act and that impeachment is becoming the most probable course after getting feedback from the full caucus.
"It's hard to exaggerate the culpability of this unhinged person," Pelosi told Democrats on a private caucus call on Friday. "We cannot empower him."
The 3.5-hourlong caucus call was emotional, reflecting the raw fury among Democrats over Trump's incitement of the Capitol riots that resulted in five deaths. House Democratic Caucus Chair Hakeem Jeffries (D-N.Y.) is expected to reconvene Democrats to continue the discussion either Friday night or over the weekend.
"The violent insurrection was an attack on the caucus, the Congress, the country and the Constitution that was incited and facilitated by Donald Trump," Jeffries said on the call. "He must be held accountable for his actions."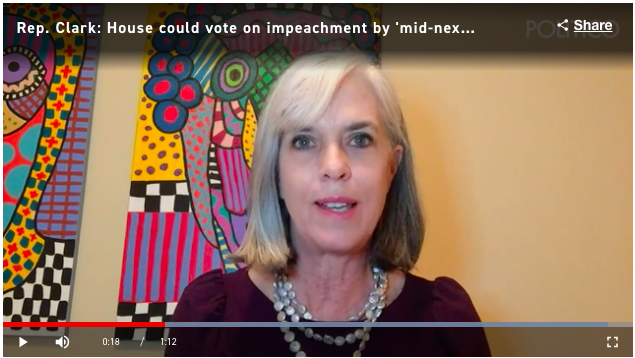 ----------
Original story here.