By: Katie Thompson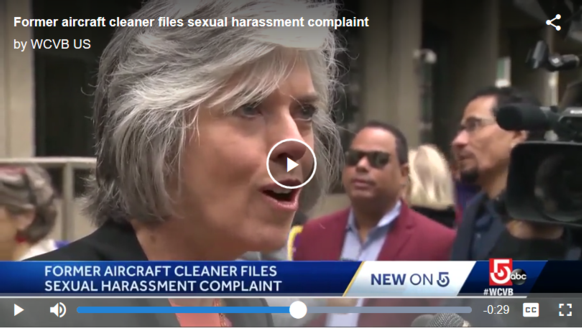 BOSTON — A 22-year-old former employee of a Logan International Airport subcontractor that cleans airliners filed a discrimination complaint Monday alleging she was sexually harassed by a supervisor and unjustly fired when she turned down his unwanted advances.

Rosa Morban, who lost her job with ReadyJet earlier this year, said her supervisor exposed himself to her, made inappropriate comments and would arrange it so that the two of them were alone so he could harass her.

Speaking in Spanish through an interpreter, Mobran said when she tried to speak up about it, another manager refused to take her seriously and joked that she would probably end up marrying her supervisor.

"I was always made to feel that my word had no value, that what was important to me was not important them, that they would do nothing and nothing would happen to them," she said in an interview following a press conference Monday.

A voice message left with ReadyJet early Monday wasn't immediately returned.

Morban, who's filing her complaint with the Massachusetts Commission Against Discrimination, is the fourth worker from the company to bring similar charges, according to the airport workers' union 32BJ SEUI, which is representing Morban.

The union said the workers were inspired to come forward after another employee spoke out against sexual harassment by her ReadyJet manager. That woman also discussed harassment in the service worker industry in January while serving as a guest of Democratic U.S. Rep. Katherine's Clark at the State of the Union Address. The woman has since settled her complaint, the union said.

Clark said Monday that the #MeToo movement - which has brought to light sexual misconduct by powerful men in the political arena and film industry- also extends to service industry workers.

"Whatever race, income level or job you have, you have a right to have a safe working environment," Clark said.

Morban said when she threatened to report her supervisor, he suggested that no one would believe her word over his. She said the support of the union and her co-workers has given her the strength to break her silence now.

"Having support from all of you gives me the courage to demand the respect I deserve," she said.