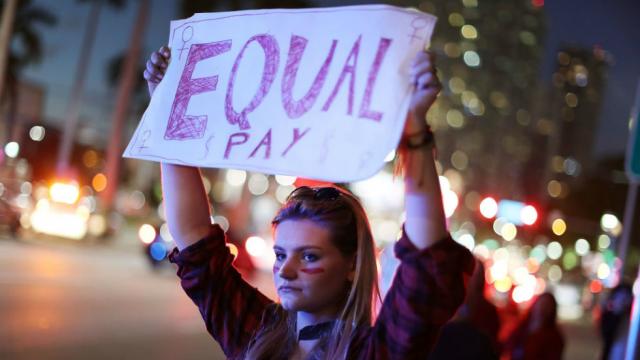 By Niv Ellis
Members of Congress from both parties and both chambers called on Thursday for the Government Accountability Office (GAO) to embark on a new study of pay differences between men and women in the federal government, which would be the first such study since 2009.
"I will be calling for a new GAO study on the topic of the gender pay gap in the federal government," said Rep. Rosa DeLauro (D-Conn.) in response to an inquiry from The Hill.
"Good data is key to getting women the pay they have earned. Men and women deserve equal pay for equal work, and this study—the first of its kind at the GAO in about 9 years—will bring us closer to that reality," added DeLauro, who is the ranking member of the House Appropriations subcommittee on labor.
This week, The Hill estimated that the federal government could be paying women in the federal workforce between $2.5 and $4 billion less than men for the same work. The estimate relied on the 2009 GAO study, as well as data and another study from the Office of Personnel Management (OPM) in 2014, which was ordered by the Obama administration.
The 2009 GAO study found a larger unexplained difference in federal women's pay, but Congress had not requested an updated look from the Congressional auditor since, as The Hill noted.
Congress has authority to commission studies from GAO, but not from the OPM.
Both studies looked at the average earnings of men and women in the federal government, and found gaps of 11 to 13 percent. The studies then tried to account for legitimate factors that affect pay differences, such as how much experience people have in the government, levels of education and management level.
Neither study was able to fully explain the gap between men and women's pay and cited discrimination as one possible contributor.
"There is only one explanation once you look at all the legitimate factors, and that is that women are discriminated against in the pay that they receive, and it's time to rectify it," said Rep. Katherine Clark (D-Mass.).
The federal government, she added, should be leading by example on issues such as equal pay.
Sen. Tammy Baldwin (D-Wis.), who worked on the gender pay gap in her first job out of college, said another study was overdue.
"I certainly think that we will be much better informed in our debates if we have that sort of data and it's refreshed," she said.
Rep. Terri Sewell (D-Ala.) said the study should be broader, examining minority wages.
A Pew poll from 2015 found that average hourly wages for Hispanic and African-American men are $6 and $7, respectively, less than those of white men, while women of those races earn another $3 less.
"For African American women, we know that the wage gap is even worse, leaving black women and their families with earnings that keep them in lower economic standing," Sewell said.
"In order to close the pay gap in our federal workforce, we need to have up-to-date information on where it exists and who it impacts," she added.
Support for a renewed investigation was not limited to women or to Democrats.
"The reality is we all need to be working against gaps in pay for doing the same work. 2009 was a long time ago," said Sen. Cory Booker (D-N.J.).
Rep. David Schweikert (R-Ariz.), a member of the conservative House Freedom Caucus, said it was important to get new data and use it to craft appropriate solutions.
"The fact of the matter is, if there's a gender pay gap for the same seniority, holding everything ceteris paribus, it needs to be addressed," he said.
Some members, such as Sen. Jeanne Shaheen (D-N.H.), agreed that it was time for a new study, but noted that dealing with equal pay for equal work was only a portion of the problem women face.
"There are other issues also that are important. I think we need paid maternity leave for women. The federal government doesn't provide that. In the private sector, big corporations and even small business who want to keep employees provide maternity leave. Both for women and men, paternity leave," Shaheen said.
Many of the Democrats that The Hill spoke to, such as Sen. Patty Murray (D-Wash.), said that passing the Paycheck Fairness Act, which would make employers more liable in cases of discrimination, was also a priority.
"While Senator Murray believes there are many steps we can take to close the wage gap, including studying the issue further, she believes the most meaningful step is to pass the Paycheck Fairness Act to ensure that every woman in the United States finally gets the fair pay she is owed for her work," said an aide to Murry, the ranking member of the Senate Health, Education, Labor and Pensions Committee.
Rep. Nita Lowey (D-N.Y.) noted that the House's legislative branch appropriations bill required a similar study on compensation equity in the House. Capitol Hill pay was not covered in the GAO or OPM studies.
"Addressing pay inequality between women and men is a top priority," she said.
Sen. Richard Shelby (R-Ala.), the chairman of the Senate Appropriations Committee, agreed that the issue was important to deal with, but said it should be done through legislation, not the appropriations process.
Asked if he would support legislation that sought to fill the gap between women and men's federal pay, he responded, "Absolutely."
------