Clark and Brooks tackle 'sextortion'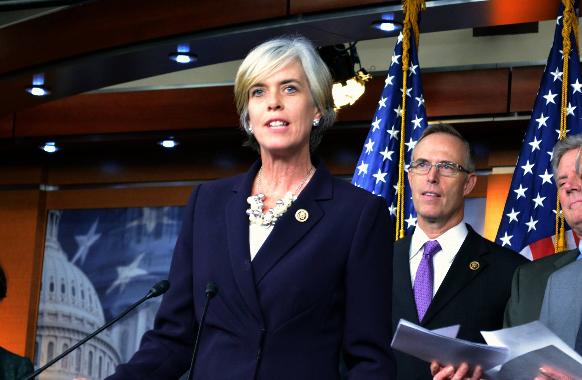 Washington, DC – Today, Rep. Katherine Clark (D-MA05) and Rep. Susan W. Brooks (R-IN05), introduced the Interstate Sextortion Prevention Act, legislation that makes online sexual extortion a federal crime. Sextortion is defined as the use of extortion and threats to coerce sexual activity. Perpetrators often hack into personal devices to find intimate images or coerce victims to share sexually explicit content. The threat of exposure is used by the offender as leverage to demand an escalation of degrading and sometimes unimaginable sexual acts. Earlier this year, the non-partisan think tank Brookings Institution underscored the growing prevalence of online sexual extortion, its disproportionate impact on women and children, and gaps in federal law. The bill makes it a federal crime to use threats to cause another person to produce sexually explicit content or engage in sexual activity against their will. It would also criminalize the use of sexually explicit content to extort for personal gain.
"Thousands of women and children are the targets of online sexual extortion and they need to know that the justice system is on their side," said Clark. "As a mom of three teens, I can only imagine the nightmare parents face realizing their child has fallen victim to an online predator. The Interstate Sextortion Prevention Act ensures that when predators come after women or children – whether in the real world or online – they will be met by the full force of the law."
Currently, federal law does not explicitly count sextortion as a separate offense, a problem that can lead to unprosecuted or under-prosecuted crimes.
"Increasingly, people, especially women, young people and children, are falling victim to online sexual extortion, and the Interstate Sextortion Prevention Act gives our law enforcement partners the tools they need to go after these sexual predators," Brooks said. "This bill will provide victims, law enforcement officers and prosecutors with more support and resources to prevent predators from continuing to victimize people online and to make sure that these criminals will be prosecuted and punished to the full extent of the law."
According to Carrie Goldberg, a civil litigator and a board member of the Cyber Civil Rights Initiative who contributed to the Brookings Institution's findings, the offenders are often strangers met online who work patiently and meticulously to earn the victim's trust over time, and then pounce once they have material for blackmail.
"Victims, who are almost always female, report feeling enslaved, trapped, suicidal," said Goldberg. "The feeling of helplessness is compounded when they are turned away by law enforcers who don't have the laws, interest or tools to stop the horror. As a lawyer who fights for victims of online harassment and sexual assault, I can attest to the urgent need for legislation criminalizing coerced sexual acts."
The Department of Justice recently released a report declaring that, "sextortion is by far the most significantly growing threat to children." Young victims of sextortion often feel shame and desperation, and reports indicate that they are at higher risk of suicide or self-harm. According to a 2015 FBI analysis of 43 sextortion cases involving child victims, at least two victims committed suicide and at least 10 more attempted suicide.
Clark has championed combatting severe online threats and abuse. She successfully earned the U.S. House's backing to instruct the Department of Justice to investigate severe online threats, and to use existing laws to prosecute these crimes. Clark introduced the Prioritizing Online Threats Enforcement Act to ensure that federal law enforcement has the resources they need to enforce laws regarding the use of the internet to perpetuate severe threats. Clark is also the author of the Interstate Swatting Hoax Act of 2015, legislation to criminalize hoax calls made to law enforcement to elicit an armed police response.
Brooks is a strong advocate in Congress for women and children, helping to reintroduce the Campus Accountability and Safety Act in the House, as well as for law enforcement, as a member of the Law Enforcement Task Force. As our world continues to be shaped by technology, Brooks has been active in efforts to update our laws to better reflect our mobile and increasingly online world. A former U.S. Attorney for the Southern District of Indiana, Brooks received bi-partisan acclaim for her efforts to battle child exploitation during her tenure, and is proud to co-sponsor the Interstate Sextortion Prevention Act.
Full text of the bill can be found here.

The Interstate Sextortion Prevention Act is supported by the Cyber Civil Rights Initiative (CCRI), Legal Momentum, the Women's Media Center, and the National District Attorneys Association.
###