Washington, D.C. – One week after organizing an unprecedented sit-in in the U.S. House, Congresswoman Katherine Clark is teaming up with mayors from her district to demand gun safety reforms. In a letter addressed to Speaker of the House Paul Ryan, all of the elected mayors from the Commonwealth's fifth congressional district urged the Republican Speaker to allow debates and votes on two existing proposals in the U.S. House – a measure to expand background checks and a proposal to prevent suspected terrorists from purchasing firearms.
Mayors Denise Simmons (Cambridge), Gary Christenson (Malden), Stephanie Muccini Burke (Medford), Robert Dolan (Melrose), Brian Arrigo (Revere), Jeannette McCarthy (Waltham), Scott Galvin (Woburn) wrote that families in their communities have grown "deeply frustrated with the inaction in Congress on commonsense measures" to deal with gun violence.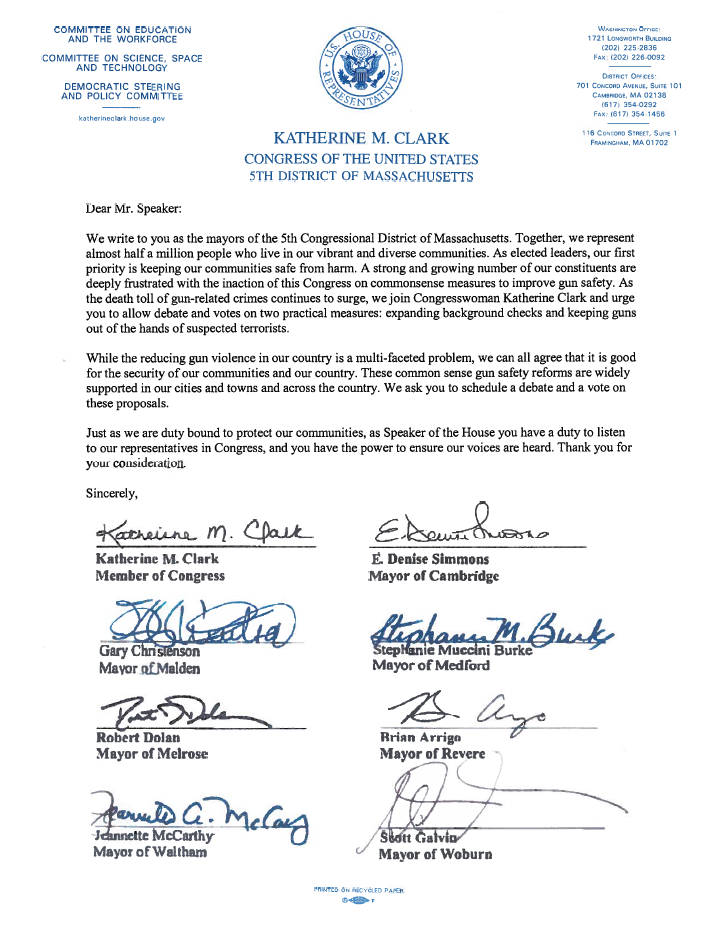 In a similar letter from members of Congress last week, Democrats underscored their frustration with years of Republican leadership's obstruction of gun violence legislation.
###