RELATED: Important Information about protecting yourself from immigration scams
SOURCE: U.S. Citizenship and Immigration Services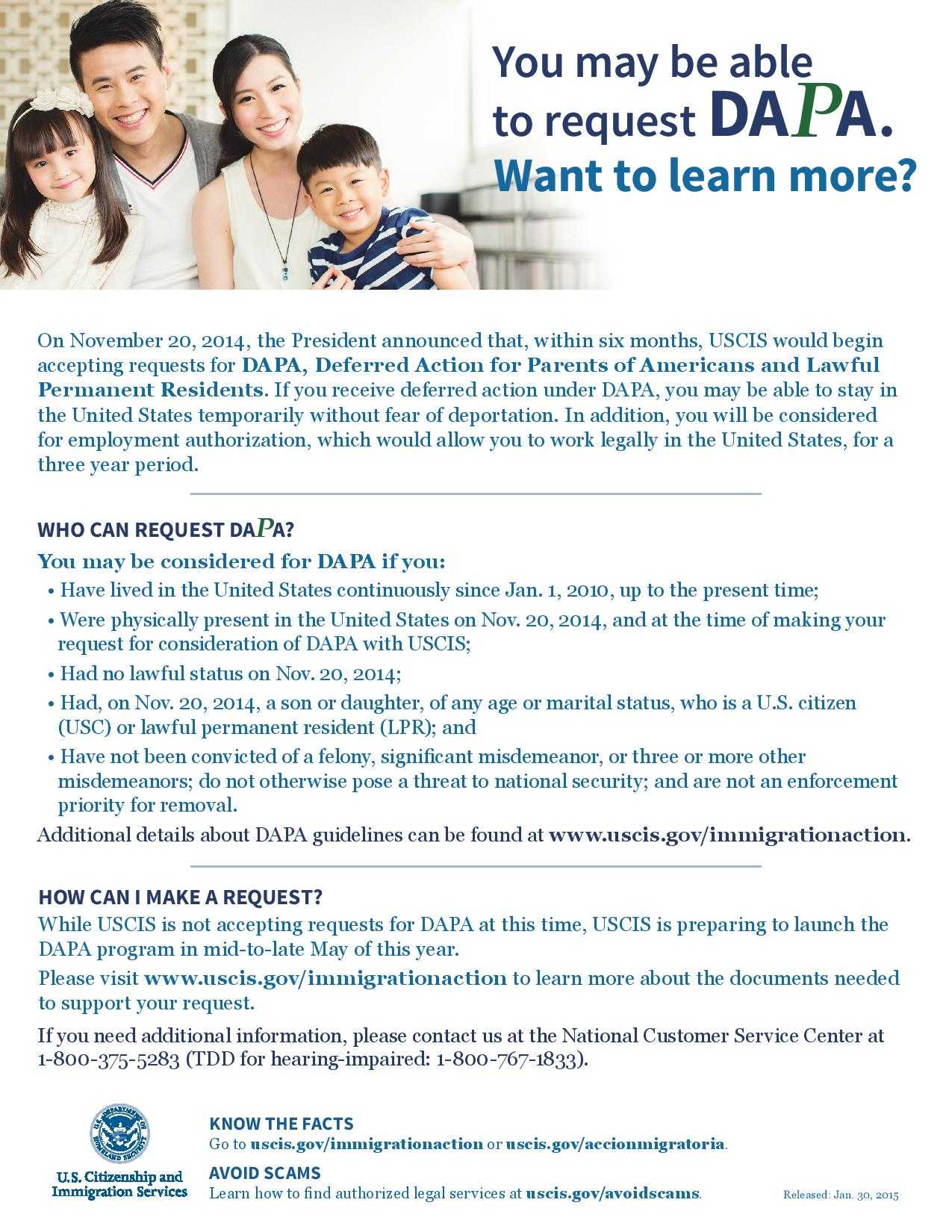 On November 20, 2014, the President announced a series of executive actions to crack down on illegal immigration at the border, prioritize deporting felons not families, and require certain undocumented immigrants to pass a criminal background check and pay taxes in order to temporarily stay in the U.S. without fear of deportation.
These initiatives include:
Expanding the population eligible for the Deferred Action for Childhood Arrivals (DACA) program to people of any current age who entered the United States before the age of 16 and lived in the United States continuously since January 1, 2010, and extending the period of DACA and work authorization from two years to three years.USCIS will begin accepting requests for expanded DACA on February 18, 2015 |Details
Allowing parents of U.S. citizens and lawful permanent residents to request deferred action and employment authorization for three years, in a new Deferred Action for Parents of Americans and Lawful Permanent Residents* program, provided they have lived in the United States continuously since January 1, 2010, and pass required background checks | Details
Expanding the use of provisional waivers of unlawful presence to include the spouses and sons and daughters of lawful permanent residents and the sons and daughters of U.S. citizens | Details
Modernizing, improving and clarifying immigrant and nonimmigrant visa programs to grow our economy and create jobs | Details
Promoting citizenship education and public awareness for lawful permanent residents and providing an option for naturalization applicants to use credit cards to pay the application fee | Details
If you believe that you have been misled by someone pretending to be an attorney or Accredited Representative, or if you need additional information, please call the Office of the Attorney General at 617-963-2917.

You may also contact the Massachusetts Bar Association at (617) 654-0400, if you would like a referral to an attorney.

Finally, U.S. Citizenship and Immigration Services provides more information on legal services on its website: http://www.uscis.gov/avoid-scams/find-legal-services 

For assistance or questions about immigration issues, you may reach my offices at 781-396-2900.