FOR IMMEDIATE RELEASE
January 16, 2014
Contact: Justin Unga
Phone: 202-225-2836
Email: Justin.Unga@mail.house.gov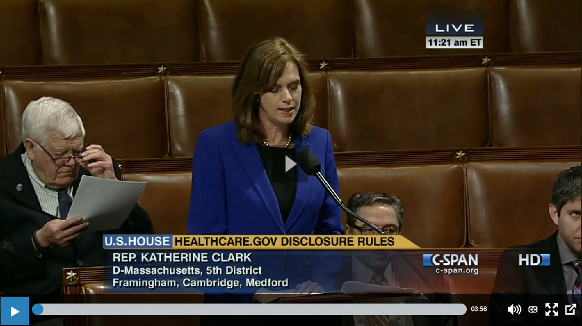 Clark Leads Fix to One-sided GOP Bill, Amendment Highlights Benefits of Health Care Reform [VIDEO]
Washington, D.C. -- Today, Congresswoman Katherine Clark led an effort to fix a one-sided Republican bill that undermines the Affordable Care Act. This bill is the 48th attempt by House Republicans to impede the progress of the nation's health care law. Clark offered the final Democratic amendment to the Exchange Information Disclosure Act, legislation requiring onerous and extensive data reporting from the Department of Health and Human Services regarding the health care law's implementation.

The type of data selected for public disclosure was hand-picked by House Republicans and forces HHS to report unworkable and unnecessary detail such as the number of times web chat logins have taken place on the federal exchange website. Clark called out the bill as a disingenuous and partisan attempt at so-called transparency.
Clark offered, "If our goal is truly transparency -- not just harassment to ensure the law never works -- why not give the full picture?"

Clark's amendment gives a fully faceted view of the benefits of the Affordable Care Act. Her remarks can be found below.
Video of Clark's remarks can be found here
Instead of focusing on jobs, rebuilding the economy, and extending unemployment benefits, Republicans have scheduled the 48th vote to undermine the Affordable Care Act.
We have a job to do - we have to ensure that the hardworking families we serve are able to navigate the law and are able to make informed decisions about their healthcare coverage.
Our job is to ensure that should problems arise, we are able to direct resources toward a timely fix.
Some of my colleagues on the Right believe that an increase in transparency will help us achieve those goals.
So why not do that? Why not let Americans know exactly what has been going on since the law has been implemented? Why not let people understand all facets of this law.
I support transparency and making the law the best it can be for the millions of families and children who will benefit from it.
I know firsthand how good this reform will be for the American people because I watched it happen in my own state. In 2006, Massachusetts implemented health care reform which today is benefiting hundreds of thousands of families. It took hard work and it meant lawmakers who didn't always agree on everything had to work together to do right by those they served. Today, 97% of the people in Massachusetts are benefitting from some form of heath care coverage.

Because I was not yet elected last fall, like millions of Americans, I watched from home as the destructive and irresponsible fight against the ACA shut our government down. It's time to stop the obstruction over this issue and get back to work for the American people.
If our goal is truly transparency -- not just harassment to ensure the law never works -- why not give the full picture? Let's give families and businesses all of the information they need regarding what's available to them as well as what we are doing to make the law work better.
My Motion to Recommit will better inform those we serve with facts about the benefits which millions of American families are seeking. My amendment will provide the full picture, not just data hand-picked to support a partisan argument.
This includes information regarding how many families and individuals have received tax credits. It will include disclosures on the number of Americans who are no longer subject to discrimination based on pre-existing conditions. Families at home will know how many people are no longer subject to annual and lifetime limits on coverage. They will know how many people who were previously uninsured are now able to access health care and plan for the future.
If we are to do right by those we serve -- do what we were elected to do -- which is to make health care reform work for the American people, then we should spare the partisan agendas and pass this commonsense amendment.
###