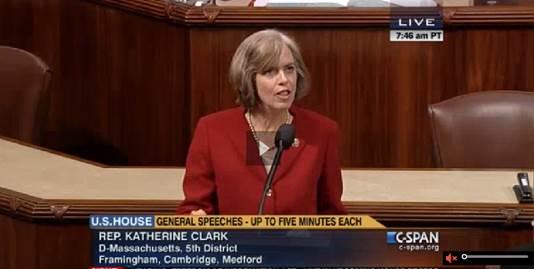 U.S. House sends Clark bill to President Obama
U.S. House unanimously passes Rep. Katherine Clark's bill to help opioid-exposed infants
Washington, D.C. – Today Congresswoman Katherine Clark's legislation to help opioid-exposed newborns passed unanimously in the U.S. House, clearing the way for President Obama's signature. Clark's legislation, the Protecting Our Infants Act, was also introduced by Senate Majority Leader Mitch McConnell (R-KY) and Senator Bob Casey (D-PA), and passed the Senate unanimously in October.
The Protecting Our Infants Act of 2015 is the first federal legislation to help newborns suffering from opioid exposure. Babies born with the condition known as neonatal abstinence syndrome are hospitalized for weeks and can suffer from seizures, respiratory impairments, tremors, fever, and difficulty feeding. Because there is no standardized diagnosis and treatment for these newborns, hospitals across the country have begun piecing together their own treatments in response to the surge of NAS births.
"Newborns in intensive care units across the country remind us that our nation's opioid epidemic knows no bounds," said Clark. "I'm grateful that my colleagues put aside their differences to ensure the health and success of babies and mothers. I hope this cooperation and leadership continues as we battle an epidemic that has devastated too many families."
Research published in the Journal of Perinatology found that the number of infants suffering from withdrawal grew nearly five-fold from 2000 to 2012. On average, the data showed, an infant is born suffering from opioid dependence every 25 minutes in the United States. These births cost an estimated $1.5 billion, 80 percent of which is paid for with Medicaid dollars. These costs have doubled since 2009.
Full text of the Protecting Our Infants Act can be found here.
###