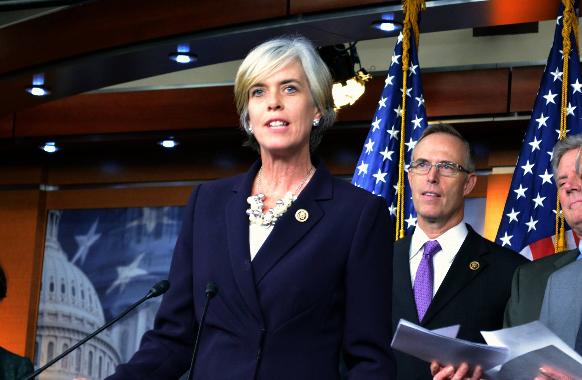 Clark, Herrera Beutler Secure $1 Million for Maternal Mental Health
Washington D.C. – Today, Congresswoman Katherine Clark (D-MA) and Congresswoman Jaime Herrera Beutler (R-WA) secured $1 million in a U.S. House appropriations bill to provide grants to states to develop postpartum screening and prevention programs.
"For too long, stigma and outdated attitudes about mental health have kept moms from getting the help they need," said Clark. "It's past time that we turn the corner from stigma to the sound medical science that tells us postpartum depressions is common, it's diagnosable, and that treatment benefits the entire family. This is a victory for families, and we're looking forward to strengthening this program in years to come."
"Having a new baby can be the best thing in the world, but for those mothers who suffer from postpartum depression – nearly 1 out of 7 – it can also be one of the most challenging times in their lives," said Herrera Beutler. "Maternal depression often goes undetected, and we know that when new moms experience depression, they aren't the only ones affected. I want to thank Congresswoman Clark for leading the Bringing Postpartum Depression Out of the Shadows Act. I am very pleased to help secure funding to better screen mothers for this treatable diagnosis."

The federal grant program was enacted by Congress in 2016 with the passage of Clark's bill, the Bringing Postpartum Depression Out of the Shadows Act. Clark and Herrera Beutler, who serve on the U.S. House Committee on Appropriations, and are members of the Congressional Maternal Health Caucus, garnered bipartisan support for the funding.
Experts estimate that at least 400,000 women suffer from postpartum depression each year, and yet it is estimated that only 15 percent receive treatment. It can increase risk for anxiety, cognitive impairment, guilt, and self-blame. Children of mothers with untreated postpartum depression may have difficulties eating and sleeping, and often experience delays in language development. Additionally, infants may develop passivity, withdrawal, and self-regulatory behavior as a response to maternal disengagement. Postpartum depression is treatable in 90 percent of cases.
###