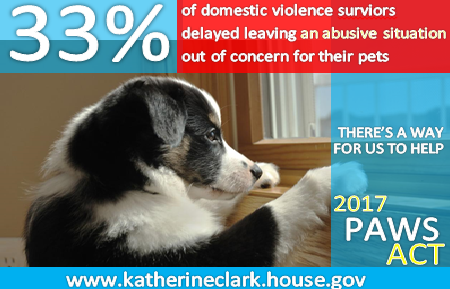 Clark Bill Helps Protect Domestic Violence Victims and Their Pets
WASHINGTON, D.C.— U.S. Representatives Katherine Clark (D-MA), Ileana Ros-Lehtinen (R-FL), Rick Nolan (D-MN), Jeff Denham (R-CA), Steve Cohen (D-TN), Mimi Walters (R-CA), along with 176 colleagues in the U.S. House reintroduced the Pet and Women Safety (PAWS) Act, bicameral, bipartisan legislation to protect victims of domestic violence, sexual assault, stalking and dating violence from emotional and psychological trauma caused by violence against their pets. Multiple studies have shown that domestic abusers often seek to manipulate or intimidate their victims by threatening or harming their pets, but according to the American Society for the Prevention of Cruelty to Animals (ASPCA), only three percent of domestic violence shelters across the country accept pets. Senators Gary Peters (D-MI) and Dean Heller (R-NV) led the reintroduction of the legislation in the U.S. Senate.
"Sadly, one in four women will experience domestic violence at some point in their lives," said Representative Clark. "Pets often become a member of the family, and the idea of leaving a beloved pet behind in a dangerous situation is unthinkable. By ensuring that people experiencing domestic abuse don't have to make the decision between finding safety for themselves or staying behind to protect their pet, we can empower survivors to seek help."
"Re-introducing the PAWS Act with my colleague, Katherine, is an important first step toward helping victims of domestic violence," said Representative Ros-Lehtinen. "Too often, men and women in abusive relationships will not seek the help they need for fear of the harm that could befall their pet. We're working to make sure that every resource is available for those who need to flee an abusive relationship along with their companion animals."
"I'm proud to join my colleagues in reintroducing the PAWS Act," Representative Nolan said. "All too often, pets are used by abusers as a tool of power and control in a domestic violence situation. For many survivors of abuse, their pet is the last source of comfort and love available to them in a particularly turbulent and dangerous time in their lives – and the idea of leaving that pet behind in order to seek help can be an enormous barrier. Our legislation relieves some of this burden."
"Too often, women are held captive emotionally while their beloved pets are used as pawns to prolong an abusive relationship," said Representative Denham. "We must make it possible for women to break free knowing that their pets will be able to move with them wherever they go. I applaud those shelters and programs that have already worked to accommodate pets, and I will continue pushing with my colleagues for a nationwide standard."
"Many perpetrators of domestic violence threaten violence against companion animals as a way of exerting control over victims who are hesitant to leave their abusers without a safe solution for their pets," said Representative Cohen. "Because few domestic violence shelters are equipped to house companion animals, many survivors return to their abusers or delay leaving in the first place -- out of concern for the safety of pets they must leave behind when seeking refuge at a women's shelter. The PAWS Act fills this critical void by extending broader, more uniform protection for companion animals and by making sure victims of domestic violence have a safe place to go with their pets."
"Individuals in abusive relationships should not be subjected to further torment by having their pet be used as pawns," said Representative Walters. "I'm proud to work with my colleagues on both sides of the aisle and the Capitol to ensure survivors of domestic violence have the resources they need to escape dangerous situations and rebuild their lives."
The PAWS Act expands existing federal domestic violence protections to include threats or acts of violence against a victim's pet, and provides grant funding to programs that offer shelter and housing assistance for domestic violence victims with pets. The bill also requires the full amount of the victim's losses for purposes of restitution in domestic violence and stalking offenses to include any costs incurred for veterinary services relating to physical care for the victim's pet.
The ASPCA reported that a study in Wisconsin found 68 percent of domestic violence survivors reported their abusers were also violent towards their animals. A similar study found that as many as 25 percent of domestic violence survivors have returned to an abusive partner out of concern for their pet. A separate 2007 study found that as many as one-third of domestic abuse survivors reported they delayed leaving an abuser out of concern for the safety of their pet.
"Many survivors of domestic violence care deeply about the well-being of their pets and rely on their pets for emotional support, said Marium Durrani, a public policy attorney with the National Network to End Domestic Violence (NNEDV). "We support all efforts to increase resources available to domestic violence programs and partners to provide safe options for survivors and their pets.
"No one should have to make the impossible choice between leaving an abusive situation or protecting their pet," said Nancy Perry, senior vice president of American Society for the Prevention of Cruelty to Animals (ASPCA) Government Relations. "Studies demonstrate that abusers often intentionally target pets to exert control over their partners, and as many as 25 percent of domestic violence survivors have reported returning to an abusive partner out of concern for the safety of their animal. The federal protections offered by the PAWS Act will provide valuable resources to give victims and their pets the security they need to escape a dangerous environment, which is why the ASPCA is grateful to Representatives Clark, Ros-Lehtinen, Nolan, Denham, Cohen, and Walters for their leadership on this legislation."
"Many states allow pets to be included in restraining orders, but what happens when a domestic violence victim must go live with family in another state where pets are not covered?" said Michael Markarian, president of the Humane Society Legislative Fund. "We must have a national policy that safeguards the pets of abuse victims, and recognizes that domestic violence impacts all members of the family—including the four-legged."
The PAWS Act is supported by the National Network to End Domestic Violence, the American Society for the Prevention of Cruelty to Animals (ASPCA), the Humane Society of the United States, the National Coalition Against Domestic Violence, the Association of Prosecuting Attorneys, the National Link Coalition, the Sheltering Animals & Families Together (SAF-T) Program, the Animal Legal Defense Fund, the Animal Welfare Institute, RedRover, the National Animal Care & Control Association, the National District Attorneys Association, the American Veterinary Medical Association, YWCA USA, the American Kennel Club, the Fraternal Order of Police, and the National Sheriffs' Association.
###