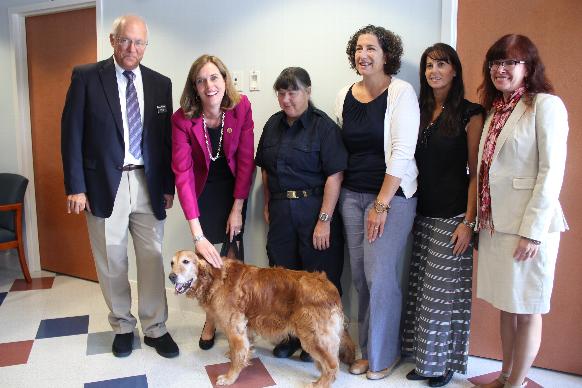 Clark Introduces Bill to Protect Victims of Domestic Violence and their Pets
Waltham, MA – This morning, Congresswoman Katherine Clark announced the Pets and Women Safety (PAWS) Act, legislation to help the estimated one-third of domestic violence victims who prolong their abusive relationships out of concern for the wellbeing of their pet. Clark partnered with local and national groups working to end domestic violence and animal abuse to draft and introduce the legislation.
"Sadly, domestic violence is something one in every four women will experience at some point in their lives," said Clark. "This isolating experience is made even worse for those who fear for the safety of their pet. Most pet lovers, including me, consider their beloved dog or cat a part of their family. No one should have to make the choice between leaving an abusive situation and ensuring their pet's safety, and I am grateful for the partnerships we've formed between organizations working to end both domestic violence and animal abuse. Together, we crafted a bill that will help save lives."
Recent studies have shown that a common component to domestic abuse is the intentional targeting of pets for abuse to exert control over their intimate partners. As many as 25 percent of domestic violence survivors have reported returning to an abusive partner out of concern for their pet. Despite the urgent need, resource strapped domestic violence shelters are rarely able to offer protection for pets accompanying families who are forced to leave a dangerous environment. To date, only 3 percent of domestic violence shelters nationwide can accommodate pets.
Clark's legislation expands federal law to include protections for pets of domestic violence victims and establishes a federal grant program to assist in acquiring a safe shelter for pets. The PAWS Act strongly asserts the need for states to expand their legal protections for the pets of domestic violence victims.
Clark's bill has garnered the support of the nation's leading domestic violence and animal welfare advocates. The PAWS Act is supported by the National Network to End Domestic Violence, the National Coalition Against Domestic Violence, the American Society for the Prevention of Cruelty to Animals, the Massachusetts Society for the Prevention of Cruelty to Animals, the Humane Society of the United States, the Association of Prosecuting Attorneys, the National Link Coalition, the Sheltering Animals & Families Together Program, the Animal Legal Defense Fund, the Animal Welfare Institute, and RedRover.
###