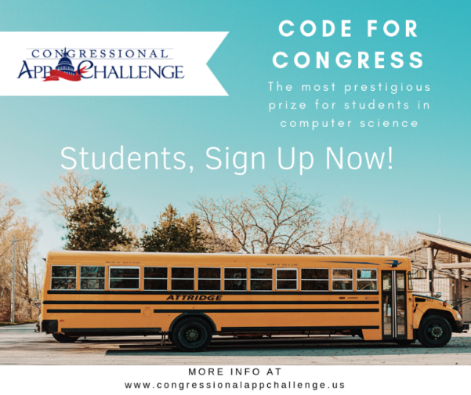 Your App Could be featured in the US Capitol Building and on the House of Representatives website!
Every year, the Internet Education Foundation holds a competition to help inspire students to be involved in Science, Technology, Engineering, and Math, as well as recognize students who have been working hard within these fields.
Students can go to CongressionalAppChallenge.us to submit entries, register, and find submission details. Requirements for submission are:
A complete registration form which can be found on CongressionalAppChallenge.us
An Application with the name of your app, the coding language you used to create the app, a one-sentence explanation of the app's purpose, a description of what your app is trying to accomplish and why, any technical or coding difficulties as well as the solution you found, and any improvements you could make.
It should also include a demonstration video, which should be one to three minutes long to show what the app does and how it works. The video should be uploaded onto a public site, like YouTube, or Vimeo, and set to public so judges can view it.
The video should have you and your teammates (if applicable) names and the name of your app, explain the purpose of the app, explain who the app is intended for, explain what tools or coding languages were used to make the app, and show how the app is used. This constitutes the entrants full and unconditional agreements to the official rules.
The exit questionnaire should also be filled out, which is an anonymous and mandatory survey that will be emailed to all students after the submission period closes.
June - October: Students create and submit their apps!
November: Judging period.
December: Winners announced!
With the 2019 App Challenge Winner, Aditya Saligrama from Weston! Read more about his app, KnowBias!
Eligible students live in or go to school in Congresswoman Clark's District, have only submitted their app once, as well as submitted one application. Students can compete alone or in teams of up to four people. If students are competing in a team, at least 50% of the teammates need to be eligible to compete in the district. Middle schoolers and high schoolers are encouraged to enter, but students may not participate if they have already graduated from high school. Please submit your apps by October 19th, 2020. Click here to learn more!
** The Challenge is subject to all applicable United States federal laws and regulations. Participation constitutes entrant's full and unconditional agreement to the Official Rules.
2020 App Challenge Rules and Guidelines: https://www.congressionalappchallenge.us/wp-content/uploads/2020/05/CAC-2020-flyer-1.pdf